Man of Steel by Tina Valentino

Neighbors, April 2004

Behind the scenes at Kiddieland Amusement Park by day,

in front of the Triton College welding classroom at night...

He's not faster than a locomotive but armed with superheated gases he keeps Kiddieland's trains on track and blazes new trails in the creation of metal art.

To say that Dave Novotny has a

burning desire to create is hardly an exaggeration or understatement.

The head of maintenance for Kiddieland Amusement Park in Melrose Park for the past 14 years

has recently found a way to meld his passions for difficult and dirty work and creativity into an exciting outlet that has been well received

by his newfound patronage. Novotny's recently-opened Custom Metal Art stuidio showcases an array of metals crafted into everything from company logos,fire or police patches, custom car designs to concepts born from photographs or novotny's own wellspring of ideas, which include an incredible 48-horse, fuly-functional brass carousel modeled after the perennial Kiddieland favorite as well as the brass ferris wheel he master-minded.

It's not surprising that the legendary amusement park has inspired novotny; as maintenance chief of the 76-year old Kiddieland tradition,he focuses on the park's efficient operation twelve months a year even though the park is only open to the public frome April through October.

Kiddieland has always tried to be self-sufficient when it

comes to maintenance. If something needed to be custom made,

we work in our shop or with machine shops to get it done, stripping down rides and repairing components internally. After all, some parts in the almost-century old park are obsolete.

That's where Dave comes in. Preparing for Kiddielands April 17th opening weekend and the exciting re-introduction of the classic steam engine train, is the top priority right now for Novotny and his crew, But what relieves the pressure of a long day for Novotny,who also lives on Kiddieland property with his daughter ashley and wife donna, are his roles as instructor and sculptor. I was the one who wanted to learn how to weld again, said Norini during the interview with Novotny, but

my schedule wouldn'tpermit me to attend the class. So Dave started without me. As a result, Novotny was befriended by his Triton College instructor, the late Chuck Gardner, who took Novotny under his wing. When Chuck left Triton to care for  his wife, he asked me to take over his class. With the permission and approval of the College's deans and administration, I began

teaching welding  at Triton. Today, over 40 students get fired up for Novotny's classes.One of those students brought a videotape to class from the manufacturer of the equipment that Novotny now uses in his custom metal art shop. I watched the tape, showed it to tom and thought, Icould make this work! Working on metals and fabricating is second nature to me. What began as an opportunity to relieve his wife of her commute to a job downtown as well as display his work locally has culminated in the opening of the River Grove studio. 

Initiated into the fest experience at the in 2002-2003-2004, where tens of thousands of people converge on labor day weekend, Novotny's custom metal art sales were hugely successful. A regular exhibitor at the  Sweetest Days in Geneva, Novotny has been invited by Elmwood Park Village President Peter Silvestri to not only participate in Elmwood Park's annual summer Taste in 2004 but to create a steel image of the Village seal for public dislay. The Village of River Grove already displays one of Novotny's pieces in front of its Village Hall on Cumberland near Grand Avenue; and Secretary of State Jesse White is the pround owner of one of Novotny's complex and impressive custom metal tables.

Novotny's extensive knowledge of computers and computer software is an integral part of the creative process,

utilizing sophisticated paint progtams to design and modify anything that can be scanned. I can take anything,

scan it and make it work on steel or brass, or copper or aluminum or a combination of any metals, Dave says

confidently. So many different possibilities exist. The process, easier said than done, is quite labor intensive and

requires many hours on the computer to ready a design for the final totch-cutting in the machine shop. Torch-

cutting results in slag, which requires polishing then shining and often tig welding for precise finishes, where

Novotny's talent literally fuses with the power of superheated gas that cuts razor sharp at 20,000 degrees.

A completed project can be clear-coated or color painted to protect it from rust, but many of Novotny's

customers actually prefer the " rust patina " that comes with age for their outdoor art. Customer's orders always take precedence over the suggestions of  family and friends, but Novotny recently gave in to his wife's longtime

request that he creat something religious in nature for their home.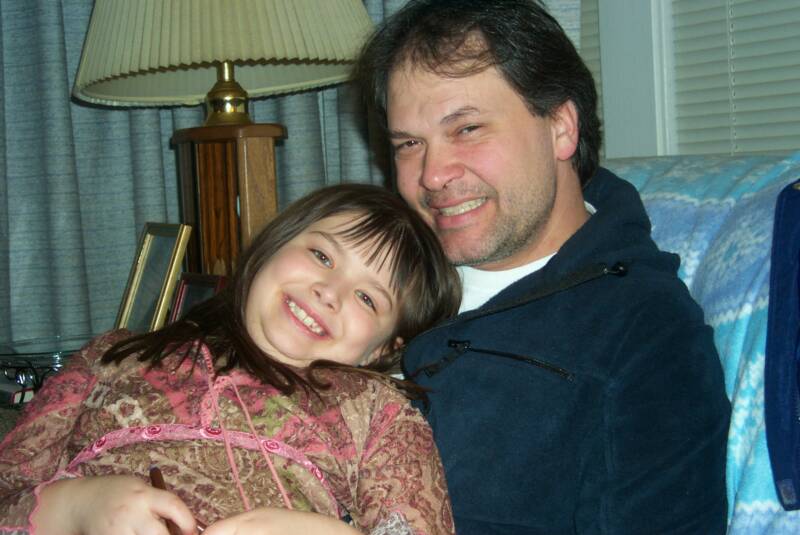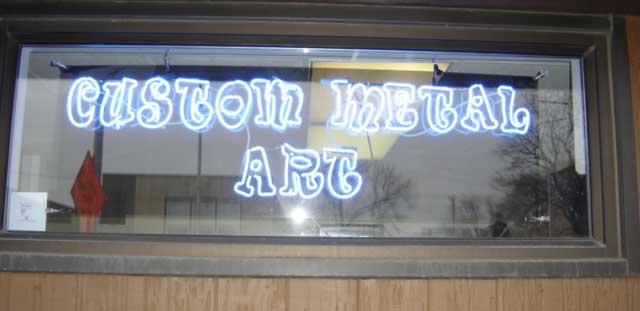 After hours of modifying stock art on his computer, Dave went into the workshop to cut the steel on Donna's request. His

steel representation of Christ's crucifixion was hanging uneventfully in the Kiddieland workshop until the sun began to shine throught its cuts. The guys in the shop looked at each other and I looked at it for the longest time we were amazed and speechless. The shadow that was cast by the sun through the metal gives a very clear impression of a person standing behind it. It was stunning. Novotny and his wife had the artwork blessed by Fr. Cosmo Militello, Pastor of Sacred Heart Church in Melrose Park, and Novotny may have very well been in the blessing's path as numerous orders have since been placed for the steel crucifix with Novotny having hardly said a word about it. At the shop, I believe it protects all of us while we're working, said Dave intently.

It's never been about the money, he reflects. I've never done anything in life for money, I do it because I enjoy it. I enjoy it. I get real satisfaction out of working with the steel and the welding process and when somebody takes something I made home with them, they should know that I loved making it. Novotny has yet to even sign his name to one of his creations, but owners have begun to ask for his signature on pieces. There's so much of me in everything I produce that it never occurred to me to sign my name. Rich in ideas, possessing a fortune in friendships, Novotny expects little more from the venture than the spark of pleasure his talent gives his custom metal art customers. And while the throngs of park patrons who pass through Kiddieland's gates may never glimpse his smudged face ( usually hidden by a Harley cap or a protective welding helmet ) or have the opportunity to shake one of his "dirty, oily hands," Novotny's handiwork is indelibly etched in their summertime memories whether they realize it or not. From fabricating the new steering wheels for Kiddieland's little auto rides to his painstaking part in reviving the quintessential kiddieland experience a ride on the kiddieland steam engine Dave Novotny's ethics are more golden than steel. Behind the scenes by day, in front of the Triton welding classroom at night, Novotny's is a stainless story, purged of caustic and cacophonous overtones: a shimmering element in a world often cluttered by scrap.